Testing/Quality Assurance Service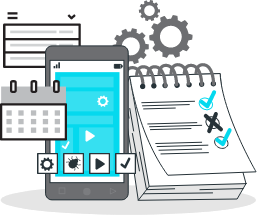 Testing and Quality assurance services are an internal part of our development process. Our testers co-ordinate work with the developer in all the steps of the development process.
Our high skill and expertise tester work really hard to give the stand out testing services for your development. Our testing process makes sure that your software/website is good to go and there are not any bugs in your software/websites.
We have an expert team to carry out the testing process for your website/software. We make sure that the deploy process is bug-free and run affectively.
Software Testing Services

We use essential QA testing services which are used to meet all the requirements of manual testing.

Our end-to-end solutions identified your web functionalities issues and performance issues in multiple platforms. So, the website can run softly.

We are experts in speed up and structures the process of the website/software automated testing.

We have test application in a different range of mobile devices with different screen sizes and hardware configurations.

We ensure how stable and capable of your website/software will work under the best circumstance in performance testing services.
We test UI/UX testing from the user point of view. Our process starts with designing and developing a completed to give best services.